Evanston: 150 Years 150 Places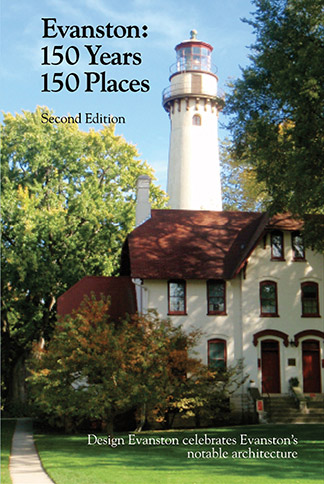 Design Evanston contributed to Evanston's 2013 sesquicentennial celebration by publishing a book that profiles 150 of Evanston's notable buildings and important places. Proceeds from the sale of the book support our mission.
If you don't want to wait for delivery of the book you can purchase it directly at the following locations: Evanston History Center, Bookends & Beginnings, Chicago Architecture Foundation and Chicago Main Newsstand.
Design Evanston's book committee, comprised of Stuart Cohen, Kris Hartzell, Heidrun Hoppe, Laura Saviano and Jack Weiss, gathered nominations from professionals and lay people throughout the Evanston community. They worked for nearly two years to catalog selections, gather photographs, research information, write text and design the book.
Evanston: 150 Years, 150 Places
The 9"h x 6"w 185-page book is available in hardbound or softbound editions. Please check the quantity(s) you would like to order and ship:
Hardbounds are temporarily out of stock
Purchase with PayPal

Evanston: 150 Years, 150 Places
Hardbound @ $25
Hardbounds are temporarily out of stock
Evanston: 150 Years, 150 Places
Softbound @ $15